Rev. Ron Lallier
Renald R. Lallier was born in St-Claude North, Quebec. in 1942. He was the eldest in a family of seven children. Born as a Catholic, Renald served in the church from his youth. Later he went to college and became a member of a religious order. He knew early in life that he was called to serve God.
Through a series of events, Renald left the order and had quite a life change for a number of years. The Lord caught up with him in 1978,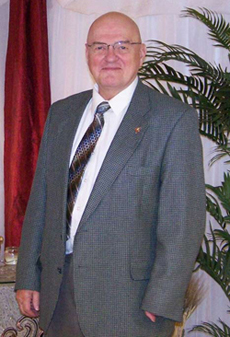 and brought him to Himself. This came about through a series of incidents with the revelation that he was on his last leg of life. Renald was full of cancer, (Chronic Acute Leukemia) and had only two months to live.
In a miracle meeting, The Lord completely healed him, to the point that there was not a trace of the cancer left in his body. Then started a great hunger and thirst to really know more of God. Renald grew into many truths that he had never heard of before, and started sharing the Word of God with all visitors that came to the church he attended. Still sensing the call of God to serve, he attended a bible school in Mississauga, Ontario.
That lasted only six months when The Lord told him to get out of there. That created quite a stir, for the school was held in the local church he attended where he operated the sound system.
The Lord had him meet his wife to be in 1984. Renald married Evelyn Y. Roy in 1985 and moved back in Granby, Quebec. He got involved in the FGBMFI and became an executive in that movement. Presently he is involved as an executive in a Discipleship organization near Montreal, Quebec.
He has had a few close mentors through the years, but one in particular he keeps in close contact with. This person is Pastor C. Kim Bergeron of The House of Prayer for All Nations in Chicopee, Massachusetts.
Renald was ordained a Pastor in October 2011 through The House of Prayer for All Nations in Chicopee, MA. by Rev. Jay Francis, Rev. Kim Bergeron, and Rev. Doug Fortune.
Rev. Renald holds weekly meetings at his home in Granby each Wednesday evening.